Those were the four reasons for CSI Helsinki to spend a week in a Google Sprint workshop facilitated by Red & Blue, a Finnish brand and product design studio. The sprint model developed by Google Ventures aims at resolving a company's business challenge within a week. We needed to find out what kind of tool would best support busy lawyers in case-related time entries and routines.
Strong assumptions - and strong doubts
Long collaboration with law firms had provided us with a fairly good understanding of lawyers' needs. We knew that our versatile legal case management system did not serve all lawyers perfectly. Some found its functionality too extensive and, instead of daily time entries, made notes to post-it stickers. There was a need for a much simpler tool, making direct time entries attractive for everyone.
As the first versions of the new tool did not gain whole-hearted acceptance within our team, it was left waiting for some time. When it was time to continue, we felt the need to re-evaluate the original idea. The development team was getting reorganised and saw the tool with fresh eyes. Conversation about utilizing artificial intelligence had reached new levels, so we couldn't ignore opportunities that AI and machine learning might offer. Besides, the traditional operating models of the legal industry where changing, so we wondered whether our tool would support lawyers' work also in the future.
Out of the stalemate with Google Sprint
The need to promote development of the tool was obvious, but we were unsure about the next steps. How to to get our busy customers involved and ensure that the tool would match with lawyers' needs? Our advisor suggested us to test a Google Sprint process which aims at resolving a company's business challenge in an intensive five-day workshop. As it sounded interesting, we emptied calendars and carried out a quick lawyer survey to ensure the validity of our basic assumptions.
Creating a prototype step by step
At the beginning of the workshop, we thought that there was plenty of time for the project. Surprisingly, the week went very quickly but the facilitator ensured that we kept on schedule.
On Monday we mapped out the problem, set the goal and identified potential obstacles. This was easy; we simply wanted to create a prototype of a simple and easy-to-use lawyer tool.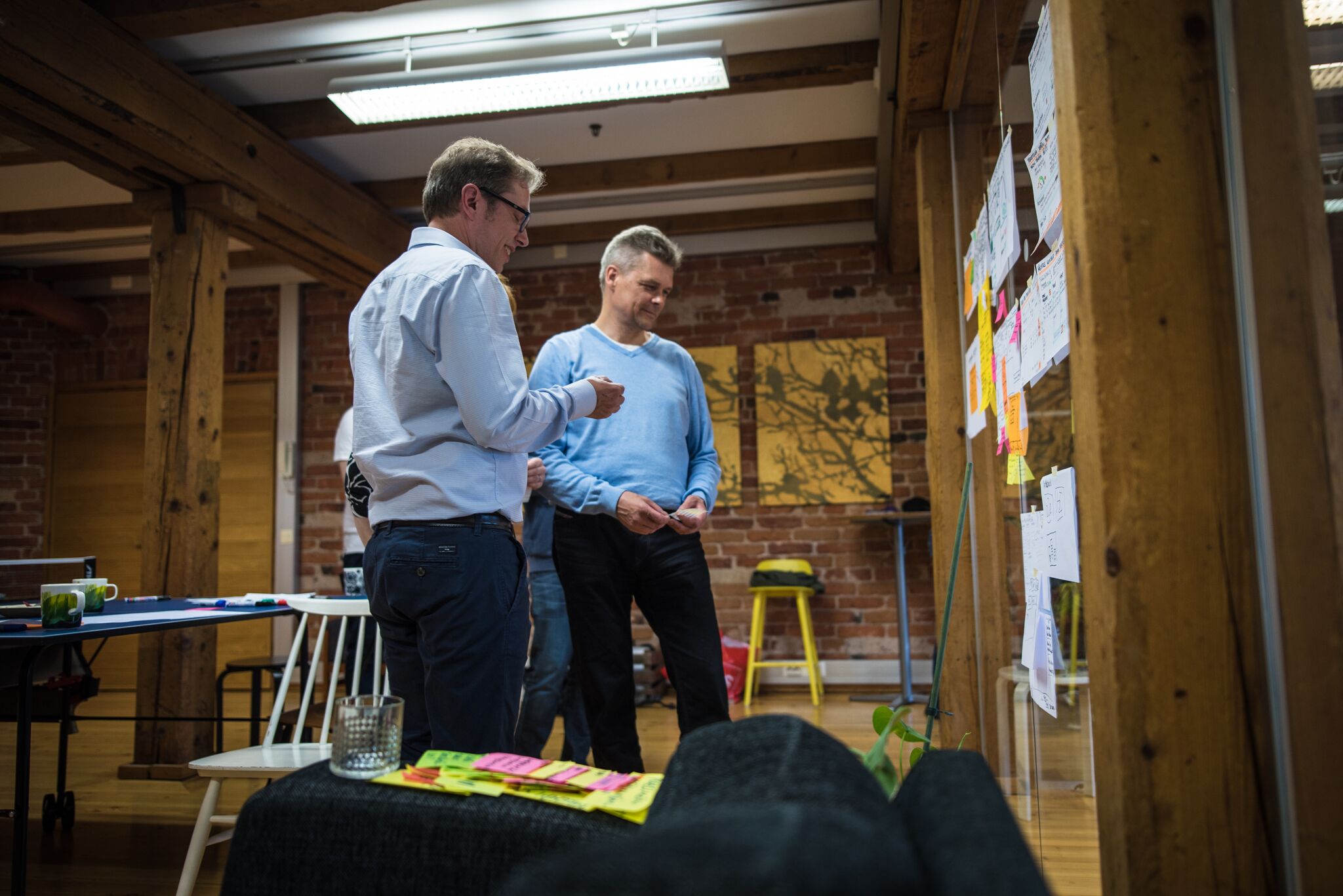 The most inspirational phase - brainstorming alternative solutions and remixing and improving ideas - was on Tuesday. To generate ideas we discussed other products and services which had made an impression.
On Wednesday morning we had a pile of ideas of which the winning ones were selected to sketch a storyboard for our prototype. The actual prototype was built on Thursday, as a result of numerous iterations. We felt the tension growing; could we finish the prototype in time and take all relevant into account?
How did the prototype do?
On Friday morning the prototype was presented to lawyers who gave us feedback on their first impression, likes, dislikes and doubts.
They liked the new look and simplicity of the tool, quick time entries, and the functionality collecting a lawyer's daily activities (e.g. e-mails and calls) for easy registration of billable hours.
However, our prototype was not a full success. We had e.g. assumed that lawyers wanted to make quick "draft" entries to be finalised later. Wrong. The prototype was finally so simple that our testers wanted to complete their time entries at once.
What did we gain?
The major benefit of Google Sprint was the opportunity to focus on one topic only for a whole week, without disturbing e-mails or phone calls. We had a chance to think about the challenge properly from different perspectives, create alternative solutions and refine each other's ideas. Any disagreements were handled effectively as, due to the time pressure, there was a need to make decisions.
In the beginning, part of the team was quite suspicious of the sprint. Gradually, they changed their minds. In the workshop there was a lot of energy, enthusiasm and even playfulness which is often lacking in a normal product development process. 
Involving customers in prototype testing exceeded our expectations. Their enthusiasm towards the new tool confirmed that we are on a right track. We saved both time and money by getting direct feedback on functionalities which matched with their needs and on ones which they found unnecessary or confusing. Now we know which parts we can safely develop further, and for which we have to develop a better solution.
Highly recommended!
Besides getting our lawyer tool validated the sprint model provided us with useful thoughts and techniques that can be utilised also in the future. Though it was challenging to release the required time for the workshop it was an adventure worth taking. We can warmly recommend it to all open-minded companies looking for new ways to develop their processes and services.
Taina Malmivirta

CSI Helsinki, Business Development Director, Partner

Fills her workdays with marketing, communications and development projects. Gets motivated by continuous development of customer experience. Believes in the power of customer feedback and light processes that support a company's agility and innovation.